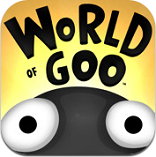 World of Goo
on your iPhone? That's right goo lovers! The inventive puzzle game will be coming to your iPhone soon!
Originally on the Nintendo Wii and currently in the top 7 iPad games, Goo will be free to current iPad players through a free update. The iPhone edition will retail for $2.99 except for the first 24 hours of release, when it will be discounted to a frugal 99 cents! Stay tuned for its upcoming release date...
Ad blocker interference detected!
Wikia is a free-to-use site that makes money from advertising. We have a modified experience for viewers using ad blockers

Wikia is not accessible if you've made further modifications. Remove the custom ad blocker rule(s) and the page will load as expected.