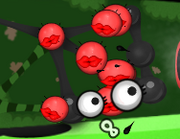 "
A red pipe! It appears to be very exclusive. Only certain types of Goo are allowed to enter.
"
The red pipe is a special pipe found in World of Goo levels. It is notable for its red coloring and its inability to collect any Goo other than Small Beauty Goo. It is only found in levels that have Beauty Goo or Small Beauty Goo. It first appears in Beauty School. Red pipes are often used in levels where large amounts of Goo Balls are needed to complete the level, and having a pipe that accepted all these Goos would allow a player to ignore the Beauty Goo and Small Beauty Goo. Red pipes appear in Chapter 2 and Chapter 3.
List of levels with red pipes
Chapter 2
Chapter 3
Remember that while red pipes only appear in levels with Beauty Goo and Small Beauty Goo, these types of Goo often appear in levels without a red pipe.
Variations
Ad blocker interference detected!
Wikia is a free-to-use site that makes money from advertising. We have a modified experience for viewers using ad blockers

Wikia is not accessible if you've made further modifications. Remove the custom ad blocker rule(s) and the page will load as expected.