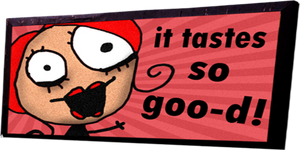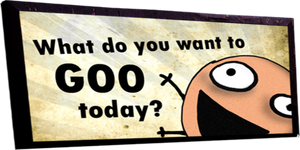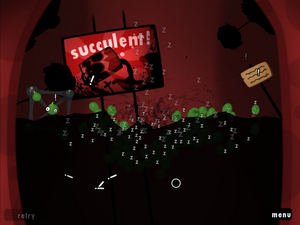 This is a list of quotes and slogans in the video game World of Goo. Most of the items on this list are either recurring lines in the game or appear as promotional material.
The Sign Painter
The Sign Painter leaves many signs behind, which create most of the dialogue in the game. Some of the more well-known lines include:
(seen in You Have To Explode The Head and advertisements)
Taglines
Three levels use the a tagline beginning with:
(seen in Flying Machine, Genetic Sorting Machine, and Second Hand Smoke)
Billboards
In World of Goo Corporation and some levels, there are billboards displaying simple phrases, often puns. One of the most notable billboards is the one proclaiming the launch of Product Z. These include:
"What do you want to GOO today?"
"Product Z. Coming 'soon'"
Additionally, a billboard with the word "Succulent!" appears in Regurgitation Pumping Station.
Other
"Let's go shopping!" (said by a customer in cutscenes and advertisements).
"The Goos don't know that they are in a game, or that they are extremely delicious." (used in advertisements, and based off a quote by the Sign Painter)
Ad blocker interference detected!
Wikia is a free-to-use site that makes money from advertising. We have a modified experience for viewers using ad blockers

Wikia is not accessible if you've made further modifications. Remove the custom ad blocker rule(s) and the page will load as expected.