"
The raw, scientifically pure Goo is all that's left. But they appear to be filled with hope and ambition! I remember when I used to have hope and ambition. Of course, they will never be able to build a bridge. It's probably best to skip this area and never come back. Nobody will even notice.
"

—but the Sign Painter will know
[Horizontal Transportation Innovation Committee]
Horizontal Transportation Innovation Committee is a level in the video game World of Goo. It is the third level of the Epilogue. The starting structure is located on a spiky island. The Sign Painter tells that only "scientifically pure goo" is all that is left (so Balloon Goo is not a Goo at all) and they will not be able to build a bridge over the large chasm between islands.
Instead, another approach is required. A player must build a tall tower, up to a sign on a thick cloud using a single balloon as support when necessary. Then that tower has to be tipped over so it can fall and turn into a bridge between the two 2 islands.
An alternate, but unreliable, strategy is to use a blade to slice off a piece consisting of two Black Goos (and some loose Goos) and attach a balloon to it. This creates a vehicle that can be moved across the screen by structure floating.
The other, even more unreliable method, is to attach the balloon to the structure until it floats to the left or right of the island, then detaching it, waiting a few seconds, and adding back on. This will cause the structure to lose a few Goos, making it lighter and easier to maneuver. With this method, you can repeatedly detach and reattach the balloon to move across the screen (see second method).
For the last two methods, you can detach the balloon to make the structure sink onto an island to land on it. Once you reach the second island, you will need a structure with at least two Goo (not a Balloon Goo) to finish.
Video strategy
Solution: Horizontal Transportation Innovation Committee (Epilogue)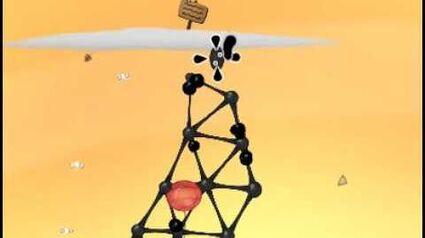 OCD solution: Horizontal Transportation Innovation Committee (Epilogue)
Ad blocker interference detected!
Wikia is a free-to-use site that makes money from advertising. We have a modified experience for viewers using ad blockers

Wikia is not accessible if you've made further modifications. Remove the custom ad blocker rule(s) and the page will load as expected.