"
The Goo Balls on this side didn't seem to like the Goo Balls over there on that side... I don't know, they look the same to me. Totally scrumdiddlyumptious.
"

—the Sign Painter
[Chain]
Chain is a level in the video game World of Goo. It is the seventh level of Chapter 1. In this level, the player must use Green Goo to wake sleeping Black Goo and then build a tower to the exit pipe. Balance and gravity are important concepts in this level, which are later expanded upon in levels such as The Server Farm and Whistler.
Video strategy
Solution: Chain (Chapter 1)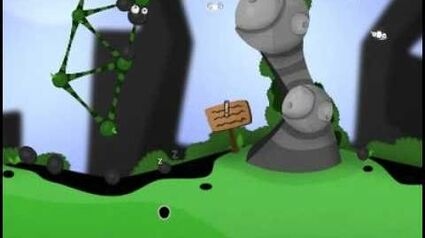 Ad blocker interference detected!
Wikia is a free-to-use site that makes money from advertising. We have a modified experience for viewers using ad blockers

Wikia is not accessible if you've made further modifications. Remove the custom ad blocker rule(s) and the page will load as expected.