"
We must be getting close to the power source. But what is it? Coal? Nuclear? Wind? ... Goo? It's probably something more elegant.
"

—the Sign Painter
[Beauty and the Electric Tentacle]
Beauty and the Electric Tentacle is a level in the video game World of Goo. It is the ninth level of Chapter 2. In this level, player must use Water Goo and Balloon Goos to help the Beauty Goo reach the pipe located underground at the bottom right side.
Easy way
The Beauty Goo can be bumped with one of the smaller Goo Balls by using the Goo throwing method. This enables the Beauty Goo to move over the pit right into the gears with no moves or use of Goo Balls. Additionally, with the extensive use of the whistle and Goo manipulation, this level can be completed with maximum of 38 Goo Balls and 1 move.
Easter egg
There is an easter egg in this level. Make the Beauty Goo go backwards off of the line. She will fall down an invisible pathway with very strong airflow and explode in an invisible tube. The Goos will fall down onto ground below the boundary line. There will be a complicated drawing of a Goo Ball shown on the wall. Click on the sign and it will read:
"
It's so simple.
"

—the original Sign Painter
[Beauty and the Electric Tentacle]
If you are using Steam or Games for Windows LIVE, you will get an achievement for this.
Video strategy
Solution: Beauty and the Electric Tentacle (Chapter 2)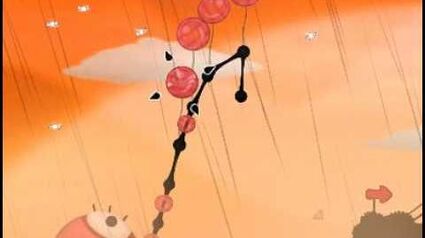 Ad blocker interference detected!
Wikia is a free-to-use site that makes money from advertising. We have a modified experience for viewers using ad blockers

Wikia is not accessible if you've made further modifications. Remove the custom ad blocker rule(s) and the page will load as expected.