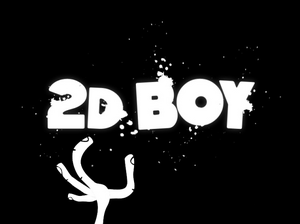 2D Boy, sometimes stylized as 2D BOY, is an independent video game development company founded by Kyle Gabler and Ron Carmel, former EA employees who left their jobs to form an independent development and production company.
They state that "their swanky San Francisco office is whichever free wi-fi coffee shop they wander into on a given day."[1]
Their first release was World of Goo, a physics-based puzzle game built around the idea of creating large structures using balls of Goo. The game won the Independent Games Festival 2008 Innovation Award as well as the 2008 Technical Excellence Award, and was nominated for the festival's Seumas McNally grand prize.[2]
References
External links